Here's what we know:
• Craig Mish, a national sports radio host for Sirius XM, reported recently that the Giants and Marlins exchanged the following names in trade discussions: Joe Panik and prospects Chris Shaw and Tyler Beede, rated as the second-, and third-ranked prospects in San Francisco's system according to MLBPipeline.com; and Miami's Stanton and Dee Gordon.
• MLB.com sources have not confirmed that those five names appeared in a formal trade proposal submitted by either team.
• One source with knowledge of the Marlins' plans believes the team would, in fact, accept an offer of Panik, Beede and Shaw for Stanton alone — if the Giants committed to paying most of the $ 295 million left on Stanton's contract, somewhere in the neighborhood of $ 250 million. (It's worth noting that Stanton can opt out of his deal after 2020 when it would have seven years and $ 218 million remaining, but any team acquiring him has to be prepared for the distinct possibility that won't happen.)
• The Dodgers are Stanton's preferred destination. They are among the teams on a relatively small — but adjustable — list of clubs to which Stanton would accept a trade. Stanton has not told the Marlins officially that he will approve a deal to the Giants, sources say, but the teams are confident that he would in the end because of a preference to play on the West Coast.
• It is unclear how much of Stanton's salary the Giants pledged to pay under their initial trade proposal. The existence of a trade proposal by San Francisco was first reported by MLB Network Insider Ken Rosenthal and subsequently confirmed by MLB.com.
• For now, at least, Marlins officials have tried to channel trade conversations toward Stanton, rather than fellow outfielders Christian Yelich and Marcell Ozuna. A trade of Stanton represents Miami's best hope of shedding significant payroll — one objective of the team's new ownership — with a single move.
The Marlins have not established any deadline for teams to make their final offers, sources say. For his part, Stanton has been content to wait and see whether the Dodgers will move from the periphery of trade discussions to center stage.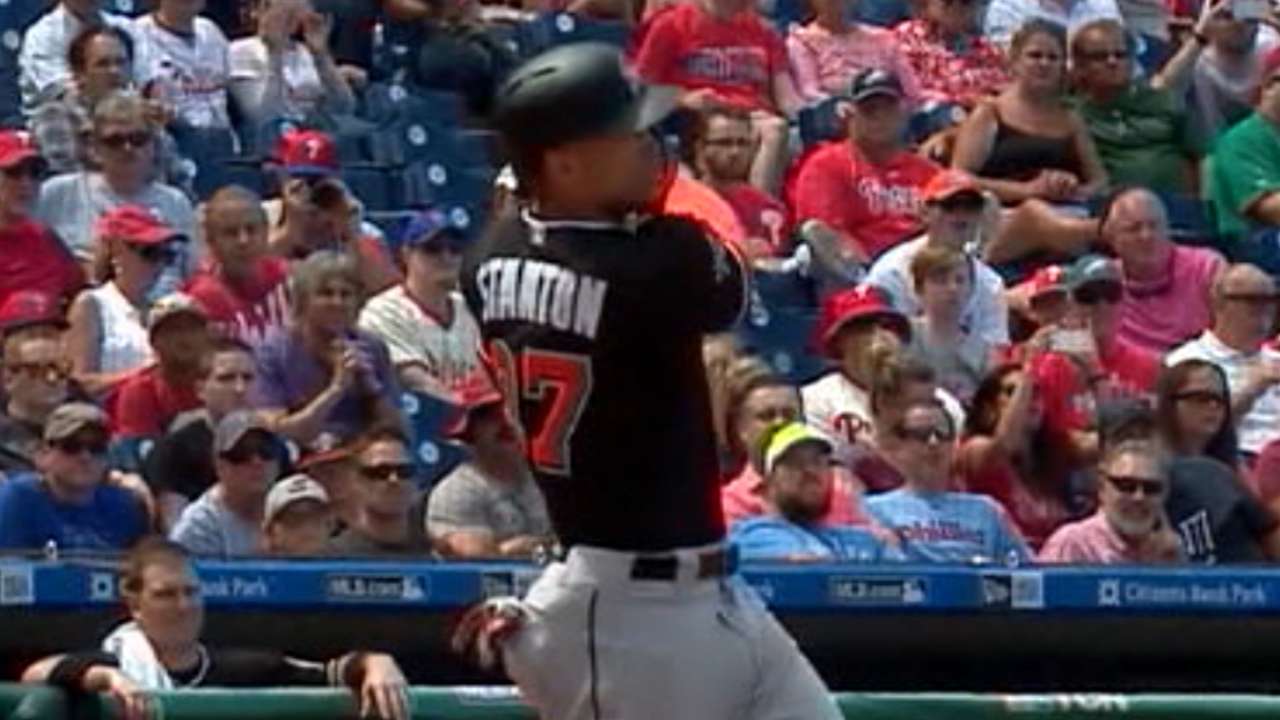 (On a related note: Given that Stanton prefers to play on the West Coast and still hasn't said definitively that he would accept a trade to the Giants, it's doubtful he already has given the same permission for a move to St. Louis, another suitor.)
The Dodgers and Giants share an ancient rivalry, as well as contemporary concerns about exceeding Major League Baseball's luxury tax thresholds — especially the Dodgers.
The Giants finished at the bottom of the Majors in home runs this season and have pursued Stanton aggressively. Still, they have yet to meet the Marlins' price. If and when they do, the last word will belong to the reigning home run champ himself.
Jon Paul Morosi is a reporter for MLB.com and MLB Network. He has also covered baseball for FOX Sports, the Detroit Free Press, and the Seattle Post-Intelligencer. This story was not subject to the approval of Major League Baseball or its clubs.