Legendary Yankees closer Mariano Rivera made a name for himself in his career by throwing the last pitch. He flipped the script tonight, tossing out the ceremonial first pitch to a warm reception at Yankee Stadium. Rivera, MLB's all-time saves leader and the last active MLB player to wear No. 42, looked right at home on the hill — minus the dress clothes beneath his uniform top, of course — as he fired a pitch right down the middle.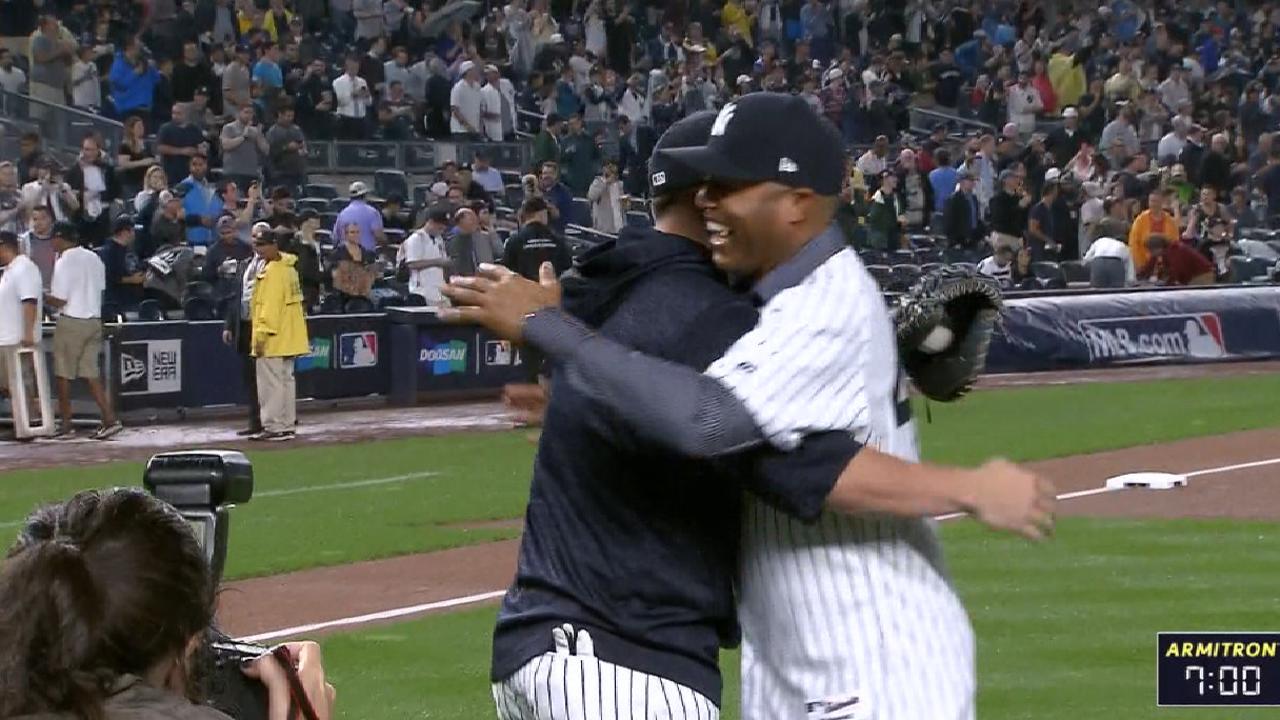 7:29 p.m. ET: Rain, rain go away
It was coming down pretty good in the Bronx at game time but Yankees starter Luis Severino made the most of it, sitting down the Tribe in order. He's already effectively tripled the length of his last outing, struck out one and used 18 pitches (11 for strikes).
Indians starter Trevor Bauer has gotten the better end of the deal weather-wise so far, as the rain fizzled into a light mist by the time he took the mound. Bauer showed his appreciation by fanning a pair of Yankees during a no-hit first, and threw 20 pitches (11 strikes).
5:50 p.m. ET: Threads count
The Indians will be sporting their gray away uniforms tonight at the Stadium.
Threads tonight: pic.twitter.com/i0uKEd8zVT

— AL Central champs! (@Indians) October 9, 2017
5:42 p.m. ET: Tarp comes off
The Yankee Stadium grounds crew rolls the tarp off the infield about an hour and 45 minutes before first pitch.
5:10 p.m. ET: Still no rain, but infield needs protection
With batting practice cancelled, the grounds crew puts the tarp on the infield to keep it dry for tonight's action.
Yankee Stadium is wet, but the rain has stopped prior to ALDS Game 4. pic.twitter.com/XEwu4fCilG

— Joe Trezza (@JoeTrezz) October 9, 2017
4:46 p.m. ET: Is Edwin available for cameo?
Indians manager Terry Francona shows off his gamesmanship when asked about Edwin Encarnacion's availability for tonight's game.
Tito on Encarnacion's availability off the bench: "If you see him strolling up to the plate, that means he's available."

— Anthony Castrovince (@castrovince) October 9, 2017
3:36 p.m. ET: Chisenhall replaces Jackson in Tribe lineup
Lonnie Chisenhall, whose hit-by-pitch was a topic of controversy in Game 2, gets the start in left field tonight, hitting seventh in place of Austin Jackson. Michael Brantley slides up to bat sixth, and the rest of the Indians' lineup remains the same from Game 3.
Another shot to close it out tonight.

Terry's pregame chat w/media will stream live on our Facebook page at 4:30PM. #RallyTogetherpic.twitter.com/9EECIVELNh

— AL Central champs! (@Indians) October 9, 2017
3:16 p.m. ET: Yankees reveal starting lineup
Last night's hero Greg Bird moves up to fifth in the order as the Yanks shuffled their lineup around for tonight's game. Chase Headley starts at designated hitter in the No. 7 spot in place of Jacoby Ellsbury, who is hitless in the postseason over nine plate appearances.
We're 2-0 with this lineup graphic so we're sticking with it! Time to even the series! https://t.co/kIUoCBFMY9pic.twitter.com/awdwuR67iP

— New York Yankees (@Yankees) October 9, 2017
2:43 p.m. ET: Judge's chambers to be filled with volunteers
Volunteers and first responders who provided aid to Hurricane-impacted areas will fill up the 18 seats of the Judge's Chambers in section 104 of Yankee Stadium for tonight's game.
Tonight, Judge's Chambers will be filled w/ volunteers from @RedCross & @SalvationArmyUS who provided aid to Hurricane-impacted areas. pic.twitter.com/G6fEMdNEcM

— New York Yankees (@Yankees) October 9, 2017
2:26 p.m. ET: Forecast clearing up?
Everyone's eyes are on the weather forecast as the remnants of Hurricane Nate creep up the East Coast. However, the tarp is off the field at Yankee Stadium, and no rain is currently falling in the Bronx. Scattered showers are forecast throughout, but major rain seems to have left the area for now, and the game is on target for an on-time start.
A momentary break in the rain. pic.twitter.com/BI2fp9H0XH

— AL Central champs! (@Indians) October 9, 2017